When purchasing your ticket at avianca.com, you can pre-select your seat and choose the best option for you and enjoy your ideal location during the flight. If your size does not include free seat selection, you can purchase it as an additional service and add it to your reservation.
What type of seat can you choose?
The Flatbed is a type of seat-bed that allows you to recline up to 180°. It has an onboard entertainment system and an independent space that gives you more privacy.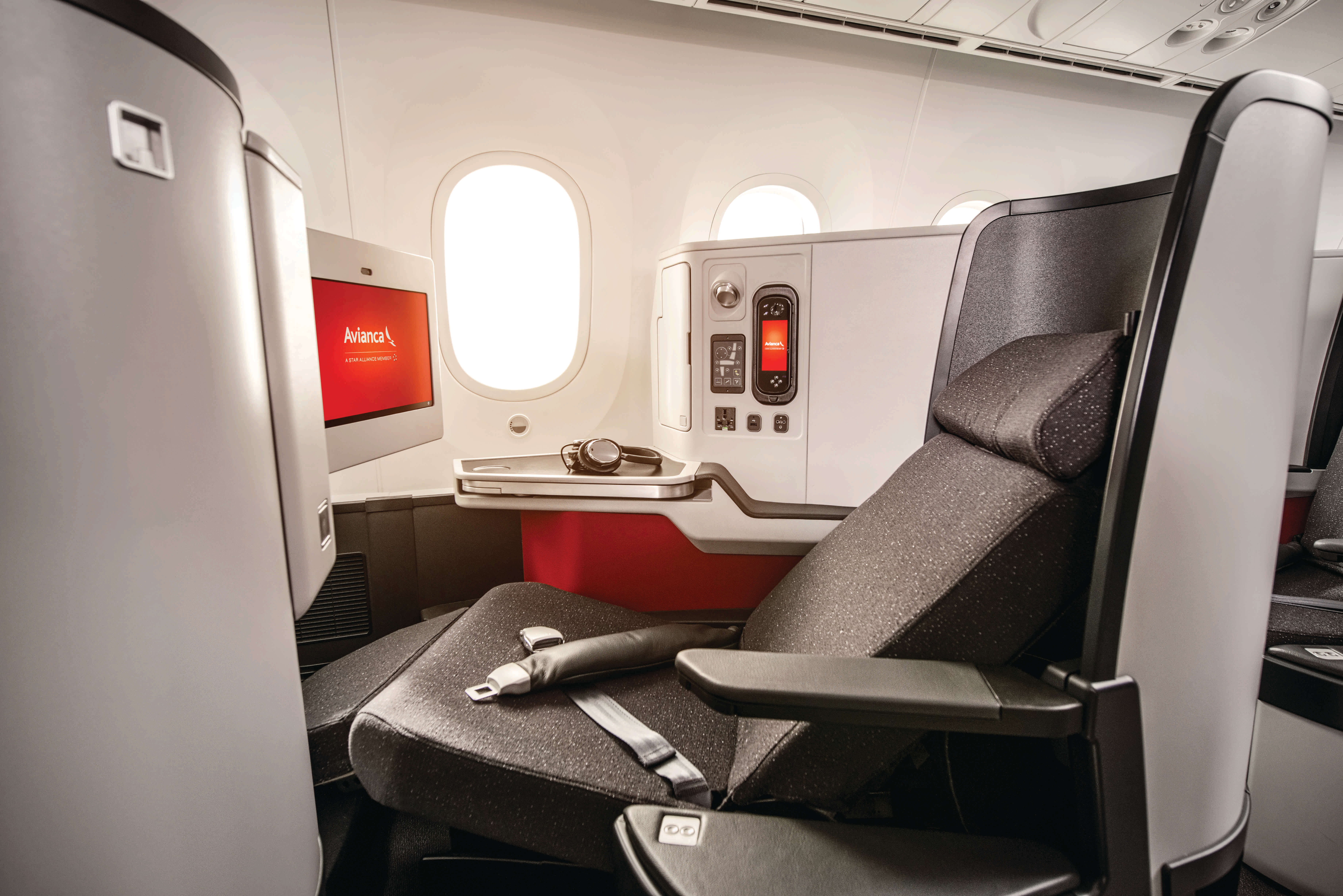 Please note that on B787 aircraft, Flatbed seat has a recline up to 180° and on A330 aircraft (operated by Wamos) it has a recline up to 165°.
Beginning August 15, 2023, flatbed seats will only be available to passengers flying Business class (XXL) on wide body aircraft in the Americas.
Enjoy greater comfort and be one of the first to board and exit the aircraft when sitting in the first three rows.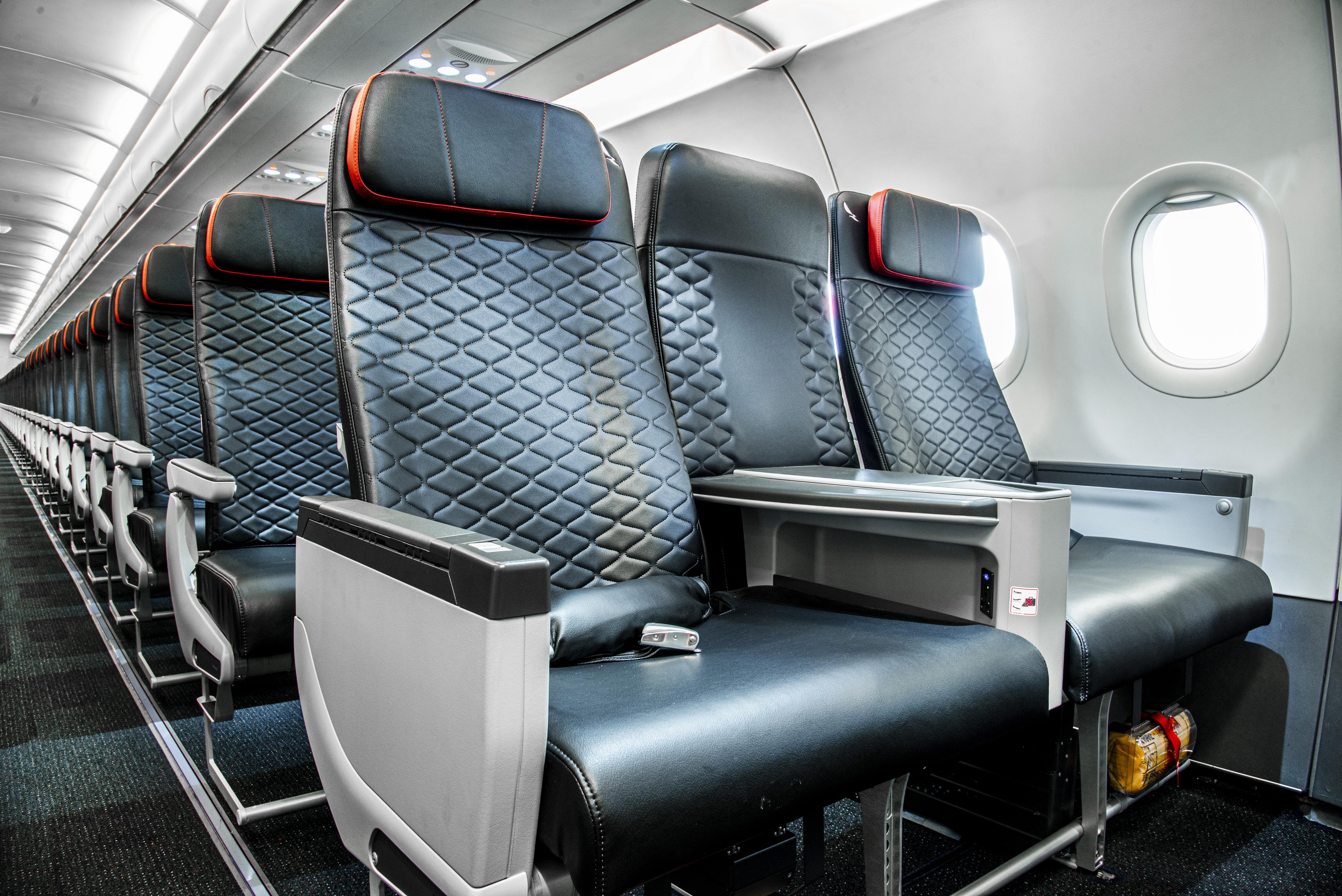 We are currently adapting our aircraft fleet. Premium seating will be available on all flights once we complete this transition.


Keep in mind: From November 1, 2022, our policies will change for size L: If you bought your ticket before this date, your conditions will stay the same, but if you want to change your flight after this date, Premium seats will have an additional charge.
In some of our aircraft, the Plus seats do not recline; instead, they offer more horizontal space and are located at the front of the plane.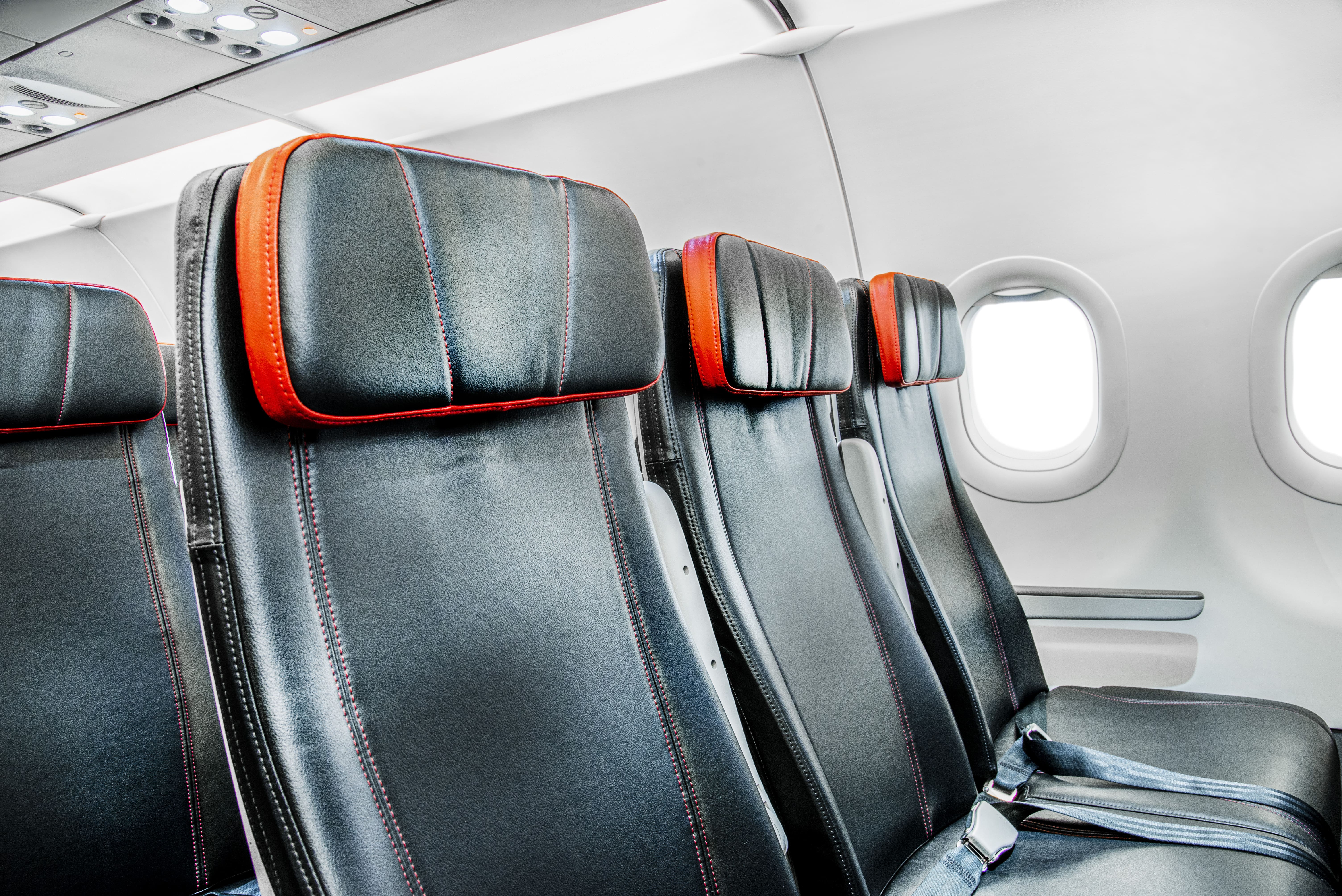 This seat is located in the back rows of the plane and is the most economical option if you want to save money and choose where to sit. It is ideal when traveling with your family or friends.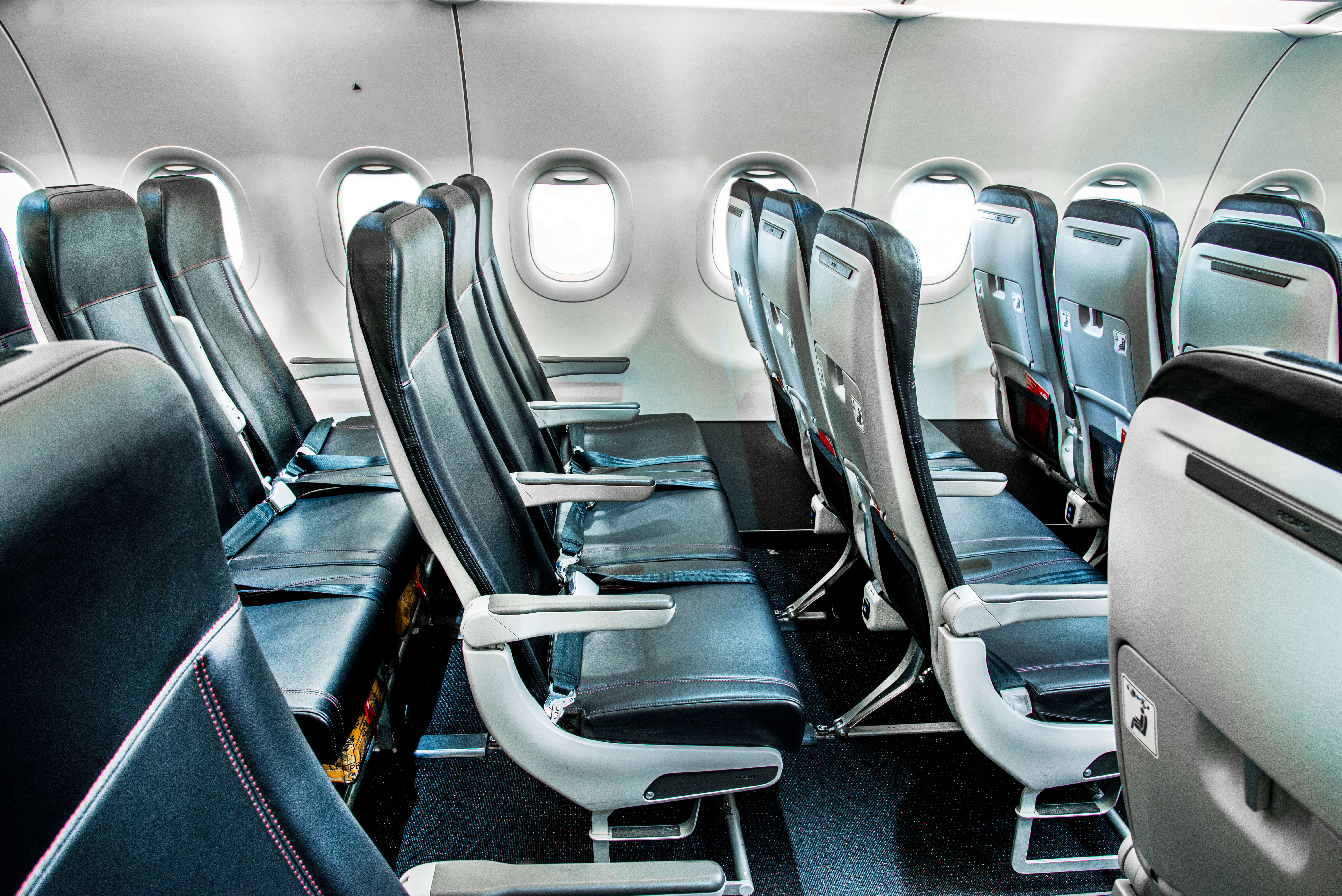 If you prefer to travel with more space for yourself, you can reserve a seat in the emergency exit.
To fly in this seat you must:
Be over 15 years old, travel without babies (less than 2 years old) and that you are not pregnant. pregnant.
Speak English or Spanish. If you choose the window seat, you must speak Spanish.
Have physical and motor skills to assist others in a possible evacuation.
Please note that in some of our planes, we only have Economy seats available.
Where can you buy your seat?
On avianca.com: avoid lines at the airport and save time by purchasing your ticket during the booking process, by accessing "Manage your reservation" or when checking in online.
At the airport: arrive in advance at the counter and ask for your seat to be included.
You are able to select your seat in our sales offices, Contact Center or travel agencies.
Fares
Domestic flights
In Colombia
| Seat | Fare |
| --- | --- |
| Economy | From COP 6.000 |
| Emergency exit | From COP 28.000 |
| Plus | From COP 33.000 |
| Premium | From COP 80.000 |
In Ecuador
| Seat | Fare |
| --- | --- |
| Economy | From USD 5 |
| Emergency exit | From USD 12 |
| Plus | From USD 15 |
| Premium | From USD 15 |
International flights
Identify the region according to the country of origin from which you are flying:
North America: United States, Canada and Mexico (except Cancun).
Central America: El Salvador, Guatemala, Costa Rica, Honduras, Nicaragua, Panama.
Caribbean: Aruba, Curaçao, Dominican Republic, Cancun, Puerto Rico.
South America: Colombia, Ecuador, Peru, Bolivia, Brasil, Argentina, Chile, Uruguay, Paraguay.
Europe: Spain, United Kingdom.
From North America (except Cancun)
From the United States and Canada
| Seat | Fare |
| --- | --- |
| Economy | From USD 10 |
| Emergency exit | From USD 30 |
| Plus | From USD 40 |
| Premium | From USD 90 |
From Mexico (except Cancun)
| Seat | Fare |
| --- | --- |
| Economy | From USD 10 |
| Emergency exit | From USD 30 |
| Plus | From USD 35 |
| Premium | From USD 50 |
From Central America
To the United States and Canada
| Seat | Fare |
| --- | --- |
| Economy | From USD 10 |
| Emergency exit | From USD 30 |
| Plus | From USD 40 |
| Premium | From USD 90 |
To Mexico (except Cancun)
| Seat | Fare |
| --- | --- |
| Economy | From USD 10 |
| Emergency exit | From USD 30 |
| Plus | From USD 35 |
| Premium | From USD 50 |
To the Caribbean (including Cancun and San Juan, Puerto Rico)
| Seat | Fare |
| --- | --- |
| Economy | From USD 10 |
| Emergency exit | From USD 33 |
| Plus | From USD 43 |
| Premium | From USD 40 |
To Central America
| Seat | Fare |
| --- | --- |
| Economy | From USD 4 |
| Emergency exit | From USD 18 |
| Plus | From USD 20 |
| Premium | From USD 20 |
To South America (including Colombia and Ecuador)
| Seat | Fare |
| --- | --- |
| Economy | From USD 10 |
| Emergency exit | From USD 30 |
| Plus | From USD 35 |
| Premium | From USD 40 |
From the Caribbean (including Cancun and San Juan, Puerto Rico)
| Seat | Fare |
| --- | --- |
| Economy | From USD 10 |
| Emergency exit | From USD 33 |
| Plus | From USD 43 |
| Premium | From USD 40 |
From South America (including Colombia and Ecuador)
To the United States and Canada
| Seat | Fare |
| --- | --- |
| Economy | From USD 10 |
| Emergency exit | From USD 30 |
| Plus | From USD 40 |
| Premium | From USD 90 |
To Mexico (except Cancun)
| Seat | Fare |
| --- | --- |
| Economy | From USD 10 |
| Emergency exit | From USD 30 |
| Plus | From USD 35 |
| Premium | From USD 50 |
To the Caribbean (including Cancun and San Juan, Puerto Rico)
| Seat | Fare |
| --- | --- |
| Economy | From USD 10 |
| Emergency exit | From USD 33 |
| Plus | From USD 43 |
| Premium | From USD 40 |
To Central America
| Seat | Fare |
| --- | --- |
| Economy | From USD 10 |
| Emergency exit | From USD 30 |
| Plus | From USD 35 |
| Premium | From USD 40 |
To South America (including Colombia and Ecuador)
| Seat | Fare |
| --- | --- |
| Economy | From USD 10 |
| Emergency exit | From USD 30 |
| Plus | From USD 35 |
| Premium | From USD 50 |
To Spain
| Seat | Fare |
| --- | --- |
| Economy | From EUR 19 |
| Emergency exit | From EUR 53 |
| Plus | From EUR 68 |
To the United Kingdom
| Seat | Fare |
| --- | --- |
| Economy | From GBP 18 |
| Emergency exit | From GBP 49 |
| Plus | From GBP 62 |
From Europe
From Spain
| Seat | Fare |
| --- | --- |
| Economy | From EUR 19 |
| Emergency exit | From EUR 53 |
| Plus | From EUR 68 |
From the United Kingdom
| Seat | Fare |
| --- | --- |
| Economy | From GBP 18 |
| Emergency exit | From GBP 49 |
| Plus | From GBP 62 |