It is a small piece of baggage with a maximum weight of 22 lb and dimensions not exceeding 22 x 14 x 10 in. (height, length, width), including wheels and handles, which must be placed in the overhead compartments of the aircraft.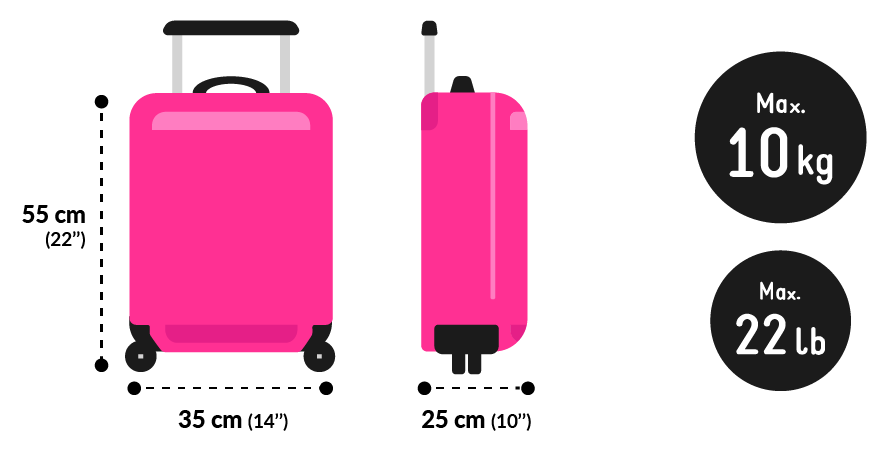 Customize your trip and buy your extra baggage!
You can purchase your carry-on baggage through our website, when you purchase your ticket or during online check-in at a lower price than at the airport. This option is only available if you purchased a fare XS.

The carry-on baggage rates shown below are for a one-way trip. When booking a round-trip flight, you will need to purchase additional baggage for each trip.
Consult our Baggage calculator for additional baggage charges.
Please note:
In case of high occupancy on the plane, carry-on baggage will be checked into the hold at no additional cost! Don't forget to stow valuable items in your personal item to ensure they fly with you in the cabin. You can also do so voluntarily if your baggage meets the specified weight and size requirements; simply approach the counter to have it checked into the plane's hold.
When your carry-on baggage does not meet the dimensions, weight, or number of pieces allowed in the cabin, it will be considered as checked baggage and may incur an additional charge. If your carry-on baggage exceeds the checked baggage conditions, it will be checked as additional baggage.
Carry-on baggage only applies to adults and children, it doesn't apply to babies (0 to 2 years old).

Check the allowed

baggage for babies

.

When your carry-on baggage is subject to space availability, it will be marked with the conditional standby bag tag.
Learn more about how to carry valuable items, liquids, food, and others in your carry-on baggage.
Important
Baggage is subject to inspection by the authorities when authorized by applicable law. avianca is not responsible for damage, destruction, loss, delay, denial of transportation, confiscation of property, or other adverse effects resulting from inspections carried out by the authorities.